LET THE 'WOWS' SPREAD BEAUTIFULLY
Created to communicate the innovative Designer sheet and 3D panels from Multiwood, this ad has the visual of a butterfly with designer sheet on its left wing and 3D panel on its right. The ad has it caption 'Let the Wows spread beautifully, suggesting the spectacular sheets and panels that inspire 'Wows'.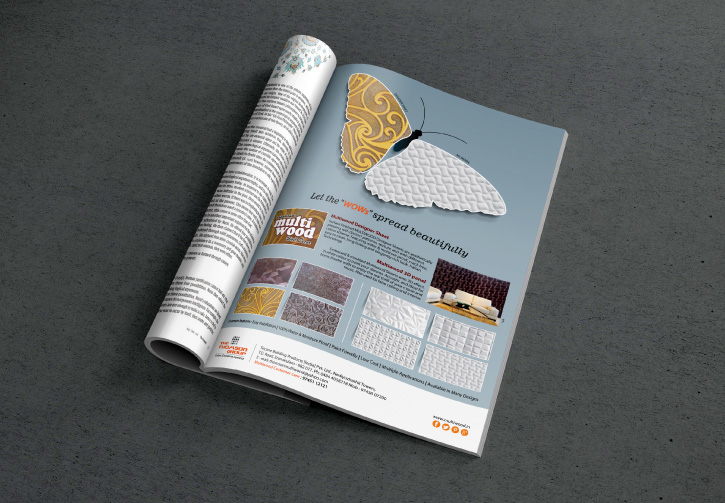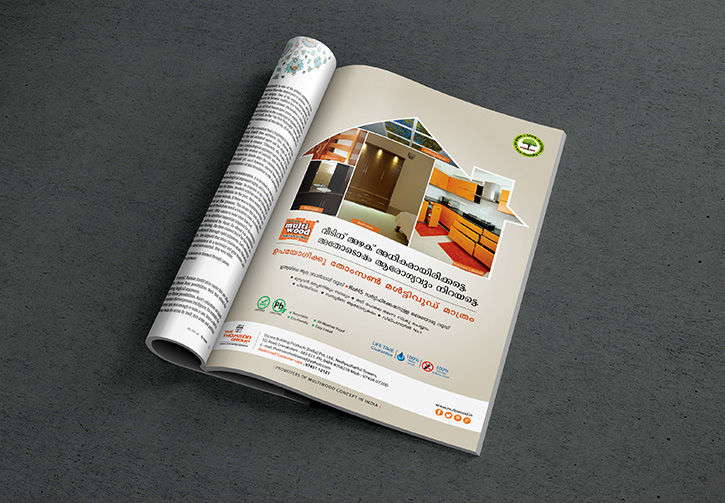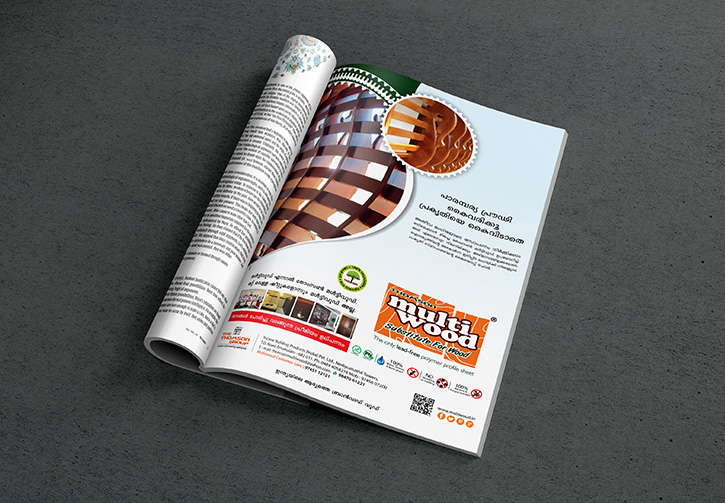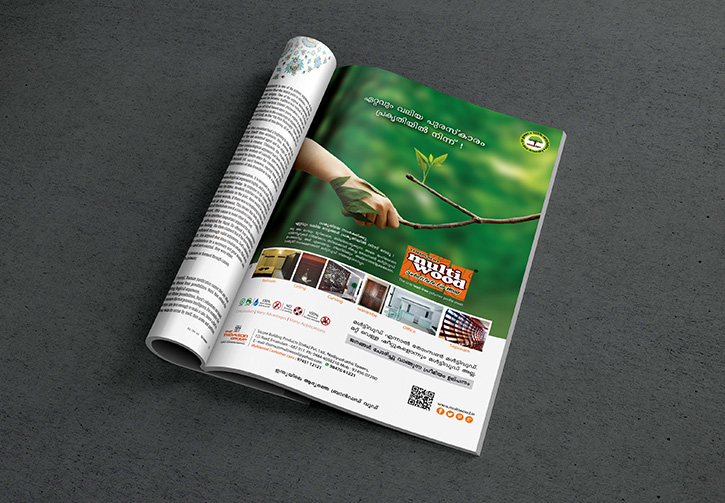 ETTAVUM VALIA PURASKARAM…
This ad was designed to publish in a special issue of Vanitha Veedu which featured Award winning constructions. So we thought it fitting to create an ad that echoes the aspect 'Award' which Multiwood receives from the nature for its amazing eco-friendliness. The visual of a handshake with the nature perfectly reflects the concept.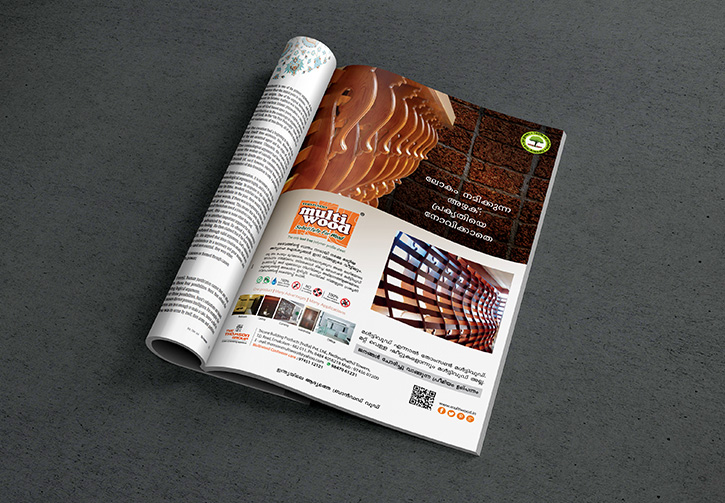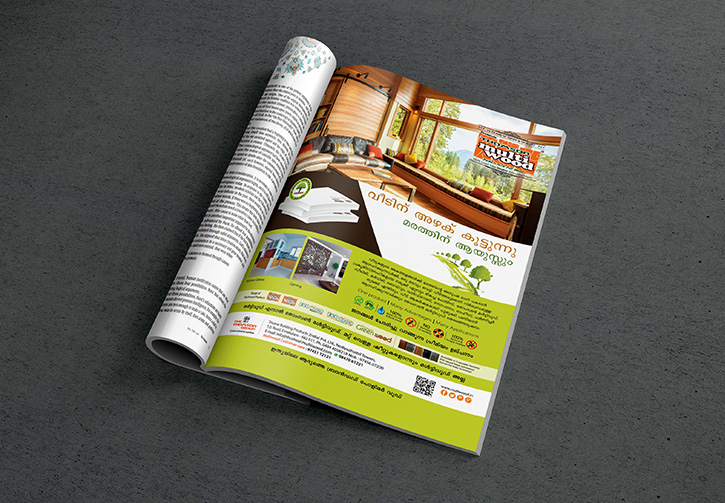 WITH A MULTIUDE OF BRAVE HEARTS, KERALA WILL OVERCOME
The context of developing this creative was the Deluge days of Kerala in August 2018. We were faced with a challenge to make a branding in the days when there was hardly any space for advertisement; after the hard hitting flood, sales were really down. Hence, the only way to make the presence felt was to publish an ad in solidarity with the people of Kerala, striving hard for a survival. Thus we coined the caption in unison with the Slogan of those days 'We shall overcome'. An apt visual was implemented, in which many hands join together creating the shape of Kerala between the hands. The word multitude was purposely included to echo Multiwood.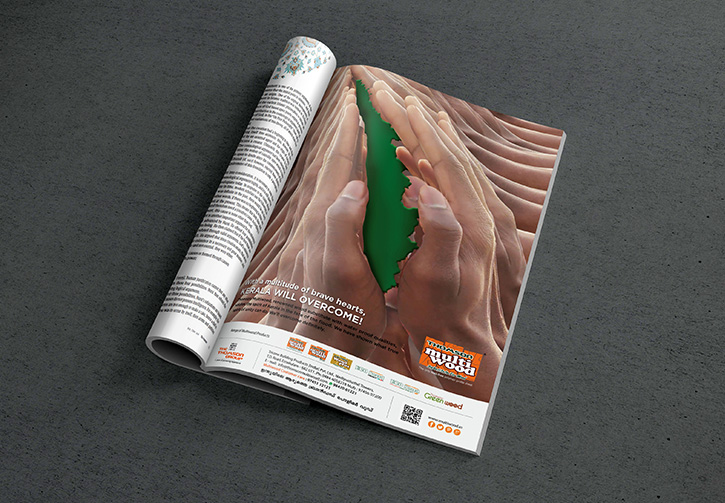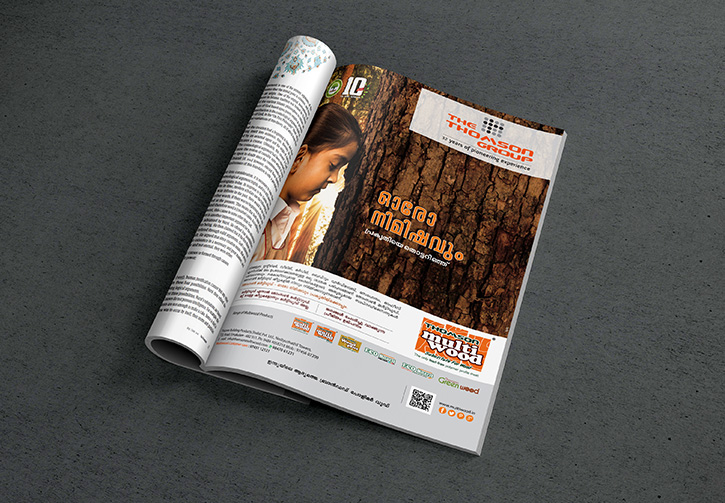 ORO NIMISHAVUM PRAKRITIYA THOTTARINJU
This is a usual branding ad, innovatively conceived and designed. Use of Thomson Multiwood immensely reduces the cutting down of trees, as Multiwood is a perfect wood substitute. In a way, by choosing Multiwood, the customer is actually taking sides with the nature. It is nature-friendly life. The visual of a girl being close to a tree suggests how Multiwood caused the trees to live on.
MARATHINNAZHAKU SWANTHAMAKKU, ORU MARAVUM MURIKKATHE...
Most people love to beautify the interiors of their homes with wood. But, there is the ecological issue in front of us – the cutting down of trees. Thomson Multiwood is projected as the perfect wood substitute, by the use of which everyone can beautify their home interiors with wood finish without cutting down a single tree. This idea is powerfully communicated through the content and the visual that supports it.